About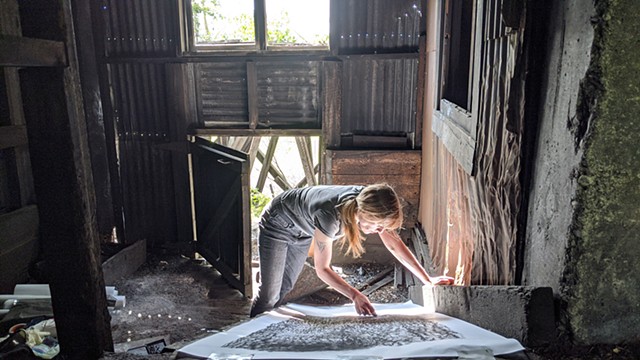 Photo: blkarts.ca
Alana Bartol comes from a long line of water witches. Her site-responsive works explore divination as a way of understanding across places, species, and bodies. Through collaborative and individual works, she creates relationships between the personal sphere and the landscape, particular to this time of ecological crisis. She is a member of Fathom Sounds, a collective of artists that have come together to think long-term about the health of water and the role artists play in responding to urgent ecological, political, and social issues that collect around water.
Bartol holds a BFA, Honours with Distinction, from the University of Windsor and an MFA from Wayne State University. In 2019 and 2021, she was long-listed for Canada's prestigious Sobey Art Award. Her work has been presented in exhibitions and festivals nationally and internationally, including Berlin Feminist Film Festival, SIMULTAN festival (Romania), Museo de la Ciudad de Guadalajara (Mexico), Walter Phillips Gallery (Banff), and PlugIn ICA (Winnipeg), amongst others. Bartol has been an artist-in-residence with Eastern Edge Gallery, Santa Fe Art Institute, Banff Centre for the Arts and Creativity, Alberta Public Art Network/the City of Calgary, and the Canadian Forces Artist Program.
Of Scottish, German, English, Irish, and Danish ancestry, Bartol is a white settler Canadian currently living in Mohkínstsis (Calgary, Alberta, Canada), where she is a sessional instructor at Alberta University of the Arts.
Contact
hello@alanabartol.com
Subscribe to my newsletter to receive occasional emails on exhibitions and projects.
Represented by:
VivianeArt
587 349 2014
viviane@vivianeart.com
Thank you to the Canada Council for the Arts, Alberta Foundation for the Arts, Alberta University of the Arts, Calgary Arts Development, Windsor Endowment for the Arts, and Ontario Arts Council for grant support that made many of the artworks on this site possible. Many thanks to my collaborators for their time, knowledge, and insight, as well as the artists, curators, technicians, administrators, writers, community members, and others that have made creating, sharing, and presenting my work possible.